Multi-Tire Capability
The ability to position/value multiple Ag tires on a machine simultaneously.
Easy To Use
Intuitive design makes adding your Ag tires to an evaluation form a breeze.
Tire Positioning
Assign front/back, left/right, outside/middle/inside positions.
Multiple Mailer Engine
Directly send data from TreadSure evaluations to up to 2 separate recipients.
Surprisingly Simple
Free to download from both the Apple® App Store and Google® Play Store. TreadSure® puts industry-leading Ag tire information at your fingertips.
User-Friendly
No account creation required. Simply download and begin evaluating your agricultural tires immediately with the TreadSure® Tread Calculator mobile application.
Clean Graphics
Pictures and diagrams make it easy to navigate through the tire evaluation process.
In-App Help
Various "Help" icons throughout the app to provide assistance where it matters most.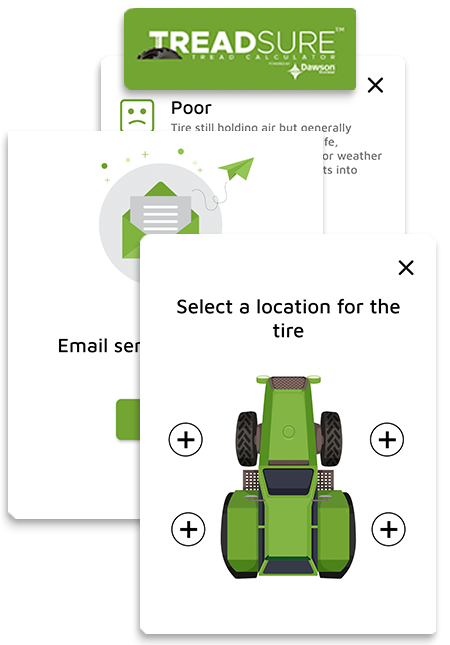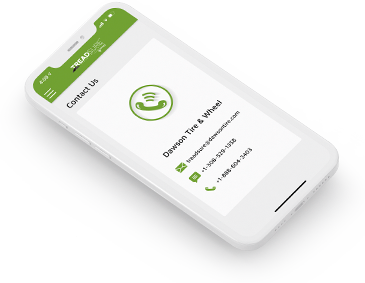 Always Improving
We're just getting started! New features and updates will be coming
Multiple Mailer Engine
Send evaluations directly to up to 2 recipients
Concrete Security
Security is important, that's why we don't store any personal or customer data
TreadSure In Action
Get a glimpse of the TreadSure® mobile app at various stages of the tire evaluation process. Clean and easy to use, that's TreadSure®.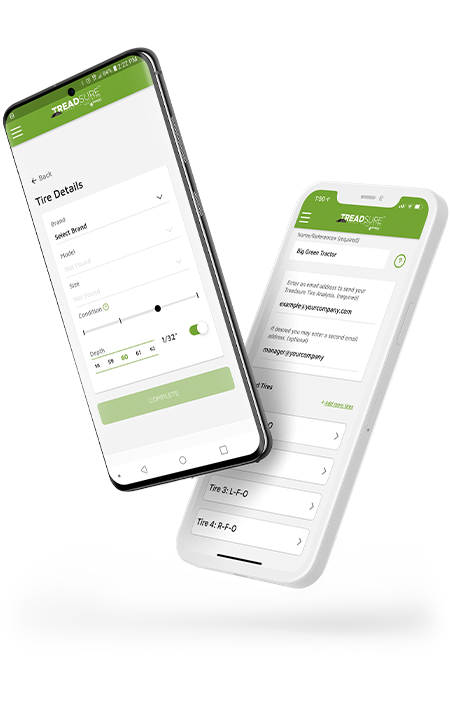 Manage All Your Tires Easily
Whether you have 1 or 12 Ag tires, TreadSure® has a solution for you. Listed below are the two main processes you are able to complete on TreadSure®. Learn the key differences between each to make an informed decision that is best for your specific use.
Tread Calculator
Perfect for quick access to information on one tire.
New Evaluation Form
Allows you to enter information for up to 12 tires and assign their positions respectively on your machine.
An App That Could Save You Thousands
TreadSure® puts money saving information in the palm of your hand to help you properly evaluate your Ag tires. This could result in thousands of dollars saved when used appropriately. It is like having a tire expert in your pocket!
Available on iPhone and all Android devices running iOS 7.0.2 or Andriod KitKat or newer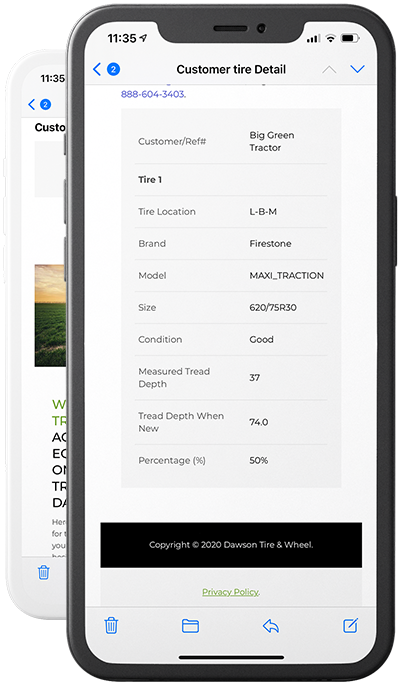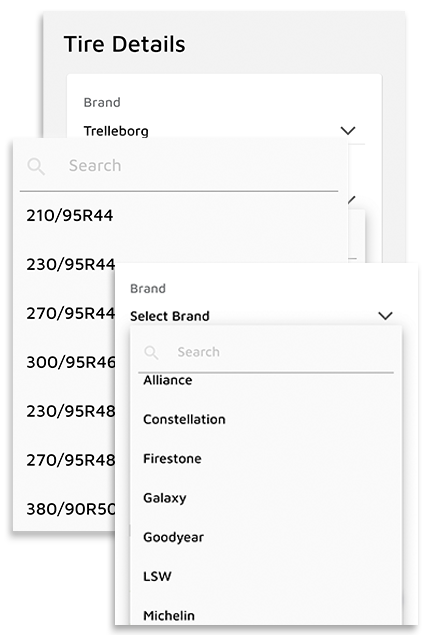 Dozens of Brands and Models
TreadSure® is a compilation of tire data from dozens of reference books. Popular brands including Firestone®, Trelleborg®, Goodyear®, Michelin®, Alliance® BKT®, and more are all included within the TreadSure® app.
Customers' Feedback
Hear first-hand what others say about the TreadSure® mobile app and how their businesses have benefited from its implementation.
Measuring tire tread is not something I've thought much about in the past…It was a great reminder that there are still a lot of areas for more data-driven approaches. Very simple but useful innovation!

TreadSure has dramatically reduced the amount of time it takes to determine the remaining tread percentage on used inventory coming in.

The process of measuring tread height and getting an accurate measurement is very important. I know for myself and the other inspectors, that part of the inspection has always been a pain, to not only measure it, but to find the correct specs. I think this App has gone a long ways to solve much of the frustration.

Clean and easy to use app that has helped me realize the value of my Ag tires so I know what to expect when trading in my equipment!
How TreadSure Works
Become familiar with using the TreadSure® mobile application and learn how it can benefit you and your business.
Powerful Industry Databooks in Your Pocket
TreadSure® compiles agricultural data from dozens of popular tire manufacturers and puts them all into one easy-to-use app conveniently found on your phone.
Click the play button on the right, to watch a video that walks you through how to use TreadSure® and unlock all of the features within the application!
Troubles with TreadSure?
Find answers to common questions other users have submitted to the TreadSure® team.
What's the difference between the 'Tread Calculator' and a 'New Evaluation Form'?
The 'Tread Calculator' allows you quick and easy access to data from one tire. The 'New Evaluation Form' allows you to enter multiple tires on one machine.
How do I contact TreadSure®?
You can reach us by clicking the envelope in the navigation at the top of this page and using the 'Quick-Contact Form' or by emailing: info@TreadSure.app.
Is TreadSure® available on my computer?
At this time, TreadSure® is exclusively available only as a mobile application available to download on both Apple® and Android® smartphones.
I didn't receive the email containing my tire data.
You can try creating a new evaluation form again and ensure the email entered is correct. If the issue persists, reach out to support at: info@TreadSure.app.
I cannot find my specific tire listed.
You can select "Not Found" as an option at the very bottom of the drop-down. You may also reach out to support, and we will do our best to get your tire included in our next update.
Does TreadSure® have listings for Ag tracks?
Currently tracks are not supported on TreadSure®. This is a feature we are looking to implement soon.
I have received the email with my tire data, what does it mean?
The email contains the "Tread Remaining" for each tire entered on the evaluation form. While there are other factors to consider such as weather checking and stubble damage, the "Tread Life Remaining" will help you better determine the value of your tires.
I used the Tread Calculator but do not have an option to email myself the results.
Correct. The Tread Calculator only provides in-app data. You should see an option to "Add To Form" OR you can start a "New Evaluation Form," from which you can add up to two email recipients.
Want to know more industry knowledge? Read more information from the tire experts at Dawson Tire and Wheel.
When considering the right agricultural tires for your job, you are likely looking for a tire that offers plenty of traction and support for your work while giving you the smoothest ride possible. What may come as a surprise to many is that Ag tires actually come in a [...]