Many agriculture farms use a tractor daily because tractors serve multiple purposes on a farm. Tractor tires, like car tires, need to be replaced every few years for the best overall performance. Determining when it's time to replace the tires depends on a few different factors. Identifying when tires need replacing can maximize your tractor's functionality and efficiency.
Wheel Slippage
One of the signs you need new tires is wheel slippage. Someone that operates a tractor frequently can tell when it's operating differently than usual. Checking the wheel slip rate is an accurate way to determine if your tractor is experiencing wheel slippage. Many new model tractors have wheel slip indicators that make it easy to determine the rate of tire-to-surface contact. If your tractor doesn't feature a wheel slip indicator, you can still determine whether there is wheel slippage by simply observing your tractor's performance. If the lugs are pushing a significant amount of dirt back, that indicates it's time for new tractor tires. Wheel slippage can lead to higher fuel consumption, so replacing tires when this occurs is important for your tractor's efficiency.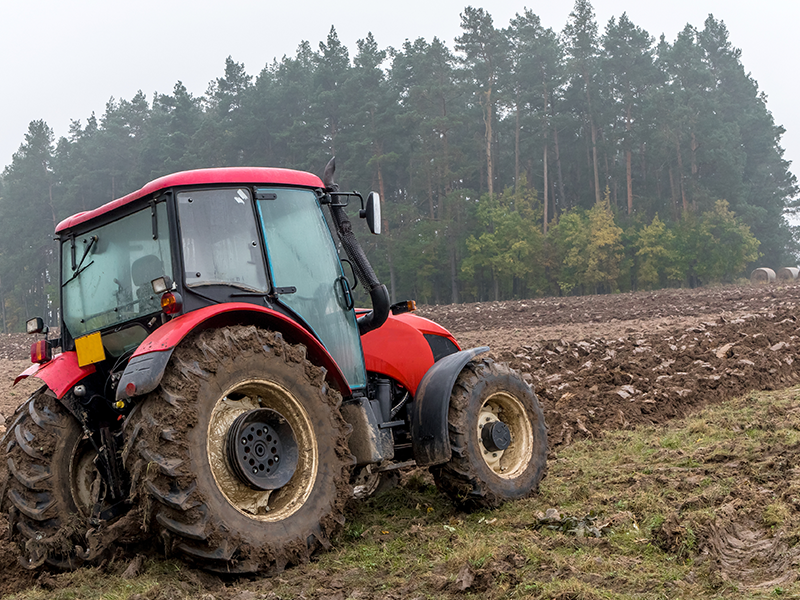 Farmer in the Pacific Northwest battling with wheel slippage
Air Pressure Problems
Another one of the signs you need new tractor tires is if you're experiencing consistent air pressure problems. Tractor tires are exposed to crops and other items that could puncture tires, so a slow leak might mean a puncture in the tractor tire. Tractors tires should be checked daily, either with a tool that can measure the pressure or by simply observing the tire for cracks or visible wear. The best time to check a tractor's tire pressure is in the morning before the tires warm up. If you cannot check your tractor's tire pressure daily, try to check it a couple of times a month.
Dry Rot
Dry rot is another indicator it's time for new tires. Dry rot is common in old or underused tires but can occur in other scenarios as well. Dry rot occurs when moisture inside of the tire starts to evaporate, resulting in weak tires. You shouldn't drive on tires with dry rot because they can break apart while driving. Anything older than six years is at risk for dry rot, but it could happen sooner. Cracks in the sidewall or lower section of the tread are indications it's time for new tractor tires.
Dawson Tire & Wheel was established in 1998. Today, they're North America's leading supplier of agriculture tires and wheels. They're here to make your life easier by offering tires to maximize the performance of your tractor. Dawson Tire & Wheel provides industry expertise and unmatched customer service, so you can rest assured knowing they can help you with all your agricultural tire and wheel needs.